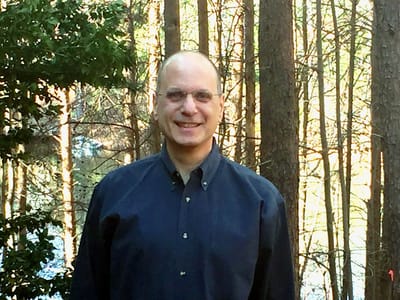 In 2018 long-time friend and colleague Bob Fenster conducted a series of in-depth interviews of many of his musical compatriots. The following is the transcript of his interview with me, where we discuss the songwriting process behind some of the songs in The Other Town, as well as my activities in the online group Theme Music, where members periodically post original music or cover songs based on a given theme.
In addition to playing piano, you ever so occasionally are seen to be playing an acoustic guitar or bass. When did you first start playing a musical instrument? Was it piano?
Hi Bob, thanks for the interview! I've been wanting to share my thoughts about my last album and my work in Theme Music, and this is the perfect opportunity.
I took piano lessons when I was seven years old, but only lasted a few months out of lack of interest. I switched to trombone, playing in my school orchestra. Then in my pre-teens, Elton John rekindled my interest in piano. I picked up a chord book, then learned how to play from his songbook by following the chords therein. From there I played in rock bands in my teens and beyond, and yes, in some of those bands I learned and played bass and guitar.
Your first album I Called I was recorded under the artist name Desmond Drive prior to Theme Music and featured a couple of Themesters like Paul Melançon and Sheila Doyle. Did you know them prior to the recording (or did you meet them through Rob Gal, your producer)?
I met them through Rob Gal, who brought them in to the studio because I needed backing musicians. I wasn't very well-networked at the time because I wasn't active in the Atlanta music community, having moved in from out of state. And wow, both Paul and Sheila sounded amazing! We wound up bringing in Paul a lot, and would have done the same with Sheila had we had more string arrangements.
Were these connections your entry into Theme Music?
Yes! I was an admirer of Paul's music and followed his exploits on Facebook. He had posted a couple of his Theme Music videos and I got curious about the group. I joined and lurked for a few months. Then one week he encouraged me to post, and I've been participating ever since.
How do you feel about that album today? Did you know that the lead track on Amazon's site is "Happy Tollbooth Guy?"
I'm half-happy with it. For a first album it was a good effort, and I learned a lot about the recording process when making it. Plus, Rob's production and engineering on it were astoundingly good. I made it during a period in my life when my attention was divided, and it shows in how some of the songs were written. They were rushed. Happy Tollbooth Guy was one such song, and I'm surprised it's the most popular one. This may be a case of being too close to one's own song to see it objectively.
You completed your second album, The Other Town, while in Theme Music with an array of Themesters on all the tracks. As a person working on album #2, can you tell me how satisfying it was to complete a second album, being able to learn from whatever mistakes you feel you may have made with the first?
Indeed, I learned to let go of songs that weren't working for me. For the first album I included every song as it was written, and in hindsight, some of them weren't strong enough to have been included.
Ha! That sounds awfully familiar.
I suppose it's a common mistake, yes? This time around I included only the ones I felt good about over time, and that has made a big difference. The album has another advantage, and that's the community behind it. As a member of Theme Music, I had the luxury of being able to draw from a large pool of musicians to get the right players for each song.
That said, I wanted a core band for continuity between songs. Lee Flier anchored everything with tracking, engineering, and sometimes playing. I recruited Peter McDade on drums, Thom Bowers on bass, and Jonny Daly on guitar. Peter has that rare combination of rock stable timing plus musicality. He's also very communicative. It was always easy for us to reach consensus on drum parts. Thom has that same restlessly melodic quality that my favorite bassists, Paul McCartney and Colin Moulding, have. I love it when those guys surprise the listener with a melodic fill that you'd expect from another instrument, and Thom has innovated some doozies for the album. Jonny's guitar playing reminds me a little of David Gilmour's. It provides a sense of lushness and, for lack of a better word, class to each song. Beyond the album-making experience, working with Jonny inspires me to continually improve as a musician. You'd think a person of his skills and accomplishments would rest on his laurels and phone everything in, but he remains curious and fearless in exploring new forms of music. That, my friend, is mastery.
Elvis Costello
Kid About It
16 December 2012
You recorded this collaboration with Jimmy Ether and Bassy Galore, and Jimmy did the video. Did you film your parts with a green screen? The vocal profile is particularly striking.
That backdrop was simply my beige wall -- no green screen. The lighting, framing, color treatment etc. were all directed by Jimmy. Impressive guy, yes?
He is, but I'll never admit that publicly. Imperial Bedroom seems like the ultimate Elvis Costello album for your sensibility. Is it your favorite?
Yes. Matt Brown knew this too, and as my Secret Santa that year, he gifted me this song knowing that it was special to me.
The closest I ever came to that experience was when someone gave me Elvis's "Our Little Angel" from my favorite EC album, but at the time it was a bit out of my comfort zone. Can we talk about how you became an Elvis fan?
I actually wasn't crazy about his music until Imperial Bedroom came along. I had only known his hits before then. They were good, but they just didn't resonate with me. My college roommate had bought Imperial Bedroom, though, and everything changed. Certainly, the production was more elaborate than his previous offerings, but what really struck me was how musical the guy was. The songs hopped genres so effortlessly, his vocals were more dynamic, and the melodies were more appealing than anything he had done before. His subsequent albums range from good to brilliant, and I'm very happy he continues to take artistic risks by exploring new genres, even if it means sacrificing a larger fan base.
The original featured organ and multi-tracked vocals. What was your thinking about changing it? Were you going for more of a Bacharach vibe?
I wanted to see if Bassy, Jimmy, and I could pull it off as a trio with bass, drums, piano, and a single vocal track. It's such a well-written song that it indeed worked with the simpler arrangement; just a more active piano part was enough to make up for the missing organ track. The Bacharach vibe wasn't something we forced. It was built in to the song.
Joe Jackson

Be My Number Two

17 December 2012
Productive week for you, eh?
It was a Secret Santa week, and I was on a staycation. Free time plus cold weather plus great songs equals a recording frenzy.
As mentioned in the intro -- here's a rare sighting of you playing a 12-string. Did you leave that up to other people in future Shaouy-led collabs in the spirit of inclusiveness?
To borrow a lyric from Imperial Bedroom, many hands make light work. Not only are collaborations easier for everyone, but I always get a kick of the band bonding that occurs in the band chat threads.
This one was co-arranged by Kyle Gray Young. How did that happen, especially since he didn't play on it?
We brainstormed the arrangement together. It was a Secret Santa song gifted to me by Paul Melançon. The original arrangement was solemn and piano-driven and we wanted to try something different. We wound up with a poppy, guitar-driven arrangement. I forget why he didn't play, but it may have been the week he injured his hand. I miss the guy. We brought in Jonny Daly to do the guitar parts, and he intuitively understood what we were going for right off the bat. So did Peter McDade on drums and Thom Bowers on bass. We gelled so well that the team was to become the core band for my album.
The video is a cheeky combination of performance footage and Sesame Street. Do you remember if that was your idea? I guess in 12/12 you were already looking for something different than pure performance video?
It was my idea. I did indeed want to do something more than performance video. I read the song lyrics without listening to the music, and the whole thing just screamed Sesame Street to me. I found whatever footage from the show I could about the number two, and even filmed some Sesame Street-style footage of my own.
Original

Candy in Line

26 June 2013
There aren't words enough to describe how much I love this song and video. Jon Brion wishes he wrote this. I contend as a package it's never been equaled in Theme Music. Take a bow, maestro.

Thanks Bob, we're all proud of that one!
First let's talk about the video: how did you get this professionally done video by Jared Caldwell and Eythan Holladay done?
Jared and Eythan were coworkers of mine, and filmmakers during off hours. For a time Eythan was a full-time filmmaker. They had the gear and knowhow to make a good film. I had approached them about doing a video for the song, and they graciously agreed.
Can you talk about the concept, how the three of you put that together?
Early in the week I had shared my lyrics with them, which really were nothing more than a rephrasing of Dear Prudence, imploring the subject to get off the straight-and-narrow. They developed the story for the video based on this idea, adding a magical, Twilight Zone twist element at the end. I had little to do with the video. While they were developing it over the week, Lee Flier (producer/engineer/guitarist) and I focused on making the music. We brought in Peter on drums, Jonny on banjo, and Nancy Gardos on backing vocals. The song had a lot of tracks and it took the full week to put it together. By the time we were done with the music, Jared and Eythan were done with the video. We were able to put the two together and post on time.
Writing process -- lyrics or music first, or some combination?
Neither. I don't necessarily recommend this as a way to write a song, but I wrote this around a vowel sound. Seriously. When I started writing the song I had no lyrical subject and no melody in mind. All I had in my head was the vowel sound of a long "I". It's an aesthetically-pleasing sound when elongated, made up of a few different vowel sounds -- "AAAAIIIIIIEEE". I chose the word "line" to contain that vowel sound and put "candy" in front of it to fit the week's theme (sweetness/candy). The phrase "Candy In Line" makes no sense by itself, so I wrote the verses to explain it.
Musically, I knew I wanted the chorus to be in a different key than the verses. I do that sometimes because I like musical surprises. Most of the chorus is just two chords, C resolving to G. To add spice I added some complexity to the chords, changing the C to a C6 and the G to a Gmaj9. The verse pattern is that of the Beatles' Michelle, only done in a different time signature. The bridge is two chords in a different key again, with tubular bells clanging in the background, an idea I stole from a Bach piece I had heard on the radio a few years back.
Do you consciously pick a musical style (e.g., waltz) when writing or do you come up with chords or melody first?
Usually a mini-melody first. Often a melody fragment pops into my head of just a few notes, and almost always it doesn't work as the beginning of a song. So I build the melody backward from there. If the original fragment comes from inspiration or my unconscious mind, the rest of it certainly gets built out with my conscious mind, like solving a puzzle. Often, but not always, lyrics come after that to fit the melody, and I typically struggle with that.
Arrangement -- I've heard that you work VERY differently than me in fleshing out your originals. Whereas I have no clue what I'm doing with the overall production and hope lightning strikes through ordered improvisation, you tend to know precisely what you want and tend to give musicians very specific instructions. Do your overall arrangement and production ideas come to you as you write or is there a second iteration of the process prior to band recording?

Usually the latter. When I'm writing it's usually just me and the piano, and the arrangement ideas come later. For many songs, I do ultimately have an arrangement worked out. This has the advantage of getting everyone on the same page and recording the song more efficiently but has the disadvantage of being overly restricting to the musicians sometimes. In this regard, I don't consider myself a good bandleader. An area I can improve upon is to give musicians more space to improvise and put more of their signature in the songs. More magic can happen that way.
Original

Another God

10 November 2013
Here's another song that you debuted in Theme Music that ended up on The Other Town. The video is your live to camera take, in sad portrait mode due to your wanting to capture keys and vocals. This seems like a good opportunity to talk about your set-up. What do you use to record? For the tech nerds, please be specific about your computer, keyboard, and so forth.
The portrait mode came from a request from a comment in one of my early live songs to switch from landscape to portrait, because the commenter wanted to see what I was playing on the piano as I was singing. For recording gear I use a Kawai stage piano (an MP6 at the time, now an MP11SE) MIDI'd in to an iMac running Logic Pro X. My piano sounds are usually from a physically-modeled piano VST called Pianoteq. Vocals and instruments go into an LA-610 preamp, which in turn go through an Apogee Ensemble A/D converter into the iMac.
Songwriting question -- when you write in the first or second person, how often are you writing autobiographically?
Not a whole lot. These days my songs originate from a melody fragment or even a vowel or consonant sound. I build backward from there and usually I write lyrics to fit the mood of whatever chords and melody I've written. In other words, I rarely start writing a song by saying "Ok, I'm going to write a song about me". I did more of that in the past, but I'm in a place right now where the melodies, the album motif, or even the theme of the week, tell me what lyrics to write.
How does music contribute to the central metaphor of this song? Or put another way -- music: great god or greatest god? But seriously, "you're the muse if you choose" is a wonderful turn of phrase that seems to be at the core of the song. You do you, Shaouy.
Haha -- Another God is a good example of not being autobiographically-driven right now. The title was driven by the theme, and the germ of the idea started with a busy, rapid melodic phrase that became "Never never say that he didn't offer heaven in a day or much faster". It was driven, again, phonetically. The only way I could pull that rapid melody off vocally was to fill it with easy-to-sing consonant sounds -- "n", "v", "th", "f" and so on. From there, again, I built backward and the song's topic revealed itself -- the music business serving double duty as an archetype business, offering its musicians as more than players, but as gods every bit as culturally influential as Zeus, Osiris, Odin, etc. The lyrics implore the listener to be their own, more authentic, god.
I hear a considerable amount of Bacharach influence in the rhythm and lyrical cadence -- and that God Give Me Strength dramatic moment. Is that a fair comparison, and regardless of the answer, how has his work as a songwriter and arranger impacted you?
It's a totally fair comparison. The song was largely stolen from Anyone Who Had a Heart, maybe my favorite song of his overall. The dramatic moment also was a straight tribute to Bacharach. More generally, Bacharach, Todd Rundgren, and Carole King all use a chord structure that I like to use a lot, taking a straight, vanilla major chord and putting an unusual bass note under it. For example, putting an F bass under a vanilla C chord turns the easy-to-play chord into something richer (an Fmaj9 for those keeping score at home). If you listen through the new album, you'll hear that kind of structure all over it.
Nat King Cole

Straighten Up & Fly Right

24 December 2013
This couldn't have been much more charming. I'm curious whether this genre of music was important to you in childhood.
No, I was an AM radio kid, growing up on 60s and 70s pop. I hadn't had much exposure to anything older than that. Patrick Clark gifted this song to me during a Secret Santa theme. He's a very tasteful fellow in everything he chooses for himself and others.
The song's arrangement gave each of the musicians room to shine -- Lee Wiggins' lovely brush work, the firm grounding of Scott Morris's upright bass, Kyle Gray Young's tasteful guitar solo, and your featured piano and vocal. You must have been super pleased with how it came out.
Indeed yes. None of us knew how it would turn out when we were recording it. The original was hard to follow by ear, and the sheet music had chords that we knew were incorrect. So each of us did the best we could with what we had, and the most important thing was that our parts didn't clash. Everybody played well on this one, and I'm so glad Scott was able to get in on this one particularly.
Although there isn't your beloved acting exactly in this video, you've got costuming and the old-timey TV filter to make provide a distinctive look.
I got a cheap pair of glasses from Amazon.com just for the occasion! They were too big, but I wore them anyway. Lee Wiggins did an amazing job antiquing the video -- it really does look of its time!
Apples in Stereo

Wings Away

12 January 2014
You took on a difficult task, making a concept video without anyone else in it. Was this borne out of necessity (lack of footage available from your rotten collaborators) or did you want to do it all along?
The former. I had only started with the video toward the end of the theme, and time was short. So I had made a mini one-man play as something unique to offer that also beat the deadline.
You were actually considering a career change at this time, weren't you? I guess it wouldn't be a coincidence that you would have that book on hand?
Correct. I've gone through three or four career crises in my adult life, and I had read that book during one of the early ones. It didn't really help, and the video conveys that. My career tale is a very common one: I play music for the love of it, but find the life of a paid musician unappealing. So I try to rationalize and intellectualize another career path, with sometimes unfruitful results. My devotions are divided.
Any recollection on how long it took to shoot?
Yes, since I was one guy shooting in one room, it took me about two hours to shoot everything, and another two hours to edit it.
I'm only vaguely familiar with Apples in Stereo. This strikes me as halfway between XTC and Gilbert O'Sullivan. How would you describe them, or at least this song?
That's a great description! I know only this one song. Keith Klingensmith (backing vocals) led the whole production, and he's well familiar with the band, as is Brandi Ediss (backing vocals, glockenspiel), and Gary Maher (synths and saxophone). I'm especially glad Gary was on it because we don't collaborate a lot given our redundant skills. We share so much of the same taste in obscure music, TV, and movies in a separated-at-birth kind of way. Scott Morris (bass) and Steve Young (drums and mix) rounded out the band and played flawlessly.
Original

Mrs. Duval

6 July 2014
I like this one almost as much as Candy in Line. And if I'm looking for something to pick up my spirits, this certainly does the job. I have to ask… who is Mrs. Duval? What's the song about?
Again, I wrote around a busy melody fragment, which forced me to limit myself to use easy-to-pronounce consonants ("m", "s", "v"). I was further constrained by both that week's theme and the motif of the album I was working on. By the time this song came around, I had already written
So Alive
and
Hoppity Man
. Both songs have to do with the all-too-human need to be somewhere else. I had decided that I can write a whole album that plays with that motif. There are many reasons to want to move around, and I wanted to explore the flip side of that compulsion too. What about those who love where they are? Once I had that idea I felt all I needed to do was paint a picture of an idyllic -- but eccentric -- small town. Mrs. Duval is just one character out of several in this idiosyncratic picture. She just happens to be in the chorus because of, again, phonetics.
Several musical things to talk about -- that infectious piano riff. Where did that come in the songwriting process?
Quite late. The introduction was good but kind of bland, and needed a trebly sparkle to complete it. I could have used a spiffy synth sound for that, but I tried the lower-tech piano sound played in an upper octave, and the riff immediately worked for me as a simple-but-catchy earworm.
Gorgeous harmony vocals in the chorus from Wendi Dunlap. What's your process for picking collaborators? (Noting that we tend to use the same rhythm section on most of our work over the last couple of years.)
Wendi was a natural choice because our vocal timbres blend very well. I can say the same for Diana Chadwell Brown, who sang with me on Seventy Miles. In both songs, we sang in octaves, each of us doubling our parts for a nice, full-sounding blend. This is a very appealing vocal arrangement that I copied from Eric Matthews, who uses it a lot in his songs. Of course, sometimes I want the opposite, a voice that contrasts with mine if the singer is singing a solo part. Keith Klingensmith's voice is so distinctive and was a natural choice to sing lead in the bridge of this song. On other songs, I've done the same with solo parts for you, Debra Tala, Brandi Ediss, Paul Melançon, Nancy Gardos, Matt Brown, Laura Bland, Annette Carpenter Wawerna, and John Fremer III. I've done the same with guitarists as well. Matt Brown, Joe Giddings, Joe Lawless, Lee Flier, John Fremer III, and Jeff Jensen all make guitar cameos in the album.
Peter McDade's drums are particularly neat on this track. Interesting panning on them as well (at least in the video version, I haven't compared to the CD). Jumping back to a previous question -- do you have drumbeats in mind or is that more of a collaborative thing?
That varies from song to song, but the way Peter and I typically work together is that we talk through a drum part before recording it. Typically we brainstorm and reach consensus on what basic pattern to use for the song sections, but Peter writes his own solos and fills. I only provide the locations for him to play them. I'm glad you brought up his drum track for this song particularly because it really, for lack of a better verb, scoots. His fills in the outro are especially lively and lift the song to a higher level.
Oh yeah, the video -- any recollection of the idea to do an outdoor video? What is it with greenery that just lifts a production that much higher?
I know, right? It's a feel-good summer song, so I asked everyone to walk lazily with their instrument in an idyllic small town environment. I wound up filming my part in the leafy small town of Mountain Park, GA, 30 minutes outside of Atlanta. Pete filmed in Decatur, GA, and Jeff filmed in a D.C. suburb. Thom Bowers (bass) and Wendi filmed in the big cities of L.A. and Seattle, respectively, but were able to shoot in small-town-looking sections of those places.
Original

Hoppity Man

18 January 2015
Did you write this one specifically for Themestock's Man/Woman theme? Where in the world did the title idea come from?
Yes, it was for Themestock. So "Man" was in the title, but I wanted to write something that was manic that goes over well when played live. So I decided on a fast ska song and came up with the title "Hoppy Man". To give it a twist I changed "Hoppy" to "Hoppity" because I tend to use that kind of pidgin English around my house a lot, a la Ned Flanders.
This was one of those rare songs where the lyrics came first. The title inspired me to write about destination addiction, and the lyrics fell out easily from there. That almost never happens!
This is one of the more Desmond Drive-style songs on your album, I guess a combination of a sort of Greek chorus and the changing styles. Agree or disagree?
I agree, but where the Greek chorus just talked in the Desmond Drive album, the players (you, Laura Bland, Matt Brown, and Paul Melançon) sing in this one. The bigger influence of the song, however, is Joe Jackson's song Nineteen Forever. I used the same chord pattern, changed the key, and sped it up. I changed styles to slow jazz in the bridge for no other reason than to give the audience -- and the band! -- a break from the zaniness of the rest of the song.
The video is a ton of fun, featuring performances, ridiculous dancing, live footage, some archival footage, and some top-notch editing on your part. Any recollection on how long it took to put this together?
That was maybe the most laborious video job I have ever done. It took me several full evenings to put that one together. It was worth it -- everyone was having fun and it really shows!
Reason #1163 why I love Theme Music: a horn section! Carey Anne played trombone, Michael Mitsch played saxophone, and Lorraine Kikuchi Gates played synth trumpet. Note also Thom Bower's frenzied bass part in the final verse. I was lucky to have guitarist John Fremer III on this, as he has played in ska bands before. Peter McDade had the unenviable task of holding all these parts together on drums, and pulled it off beautifully. Lee Flier had the further unenviable task of balancing all of it out in the mix, and created something special.
Original/Smile Factory

There She Is

29 March 2015
The video had to have won a Themey for best thumbnail (although oddly it's not the thumbnail that showed up above. Beware the knife edge of Bill's giant hand!
I aspire to act in a Kung Fu movie someday.
Smile Factory is one of a batch of Internet bands spawned by Theme Music. Do you remember what the first SF production was?
Yes! It was Torbjörn Petersson's Man In a Minute, with Torbjörn on lead vocals and guitar, Zeus Henderson on bass, Lee Wiggins on drums, me on keys, and Keith Klingensmith, Brandi Ediss, and Karen Basset on vocals. Smile Factory has a third song, Why It's So Hard To Be (King Of Nothing At All), also written by Torbjörn.
What are the rules of Smile Factory?
It's pretty loose, but if there is a subgenre Smile Factory belongs to, it would be "sunshine pop", that is, sugary, upbeat, melodic pop songs influenced by 60s and 70s AM radio.
How do you decide when an original is suited for your own solo work or for this band… or say your previous TM band, the Sons of Lazaro?
There She Is certainly qualifies as sunshine pop, and was a natural fit for Smile Factory (fun fact: the lyrics are actually about the antics of our cat Abbie). Sons of Lazaro is a grittier rock band in the style of Bob Mould. I had co-written Where's the Train with that in mind at the start, so it was a natural fit for that band. This is not to say I couldn't have used either for my solo album, but they have better homes where they are.
Were you going for a tribute to The Wonders here?
Exactly, yes. I intended it as a purposefully-derivative song with the Wonders as the only influence. Though The Wonders are a fake band, they're so good I feel they deserve to have their own Rutles. I was expecting the song to be forgotten because it's so derivative, but it wound up getting a lovely review in the Pure Pop Radio website, and has just been included on the compilation LP 12 String High, featuring Rickenbacker-based bands from around the world. I'm surprised and absolutely thrilled about this!
That's awesome, congratulations and well deserved. Which brings us to...
Lalo Schifrin

Mannix

13 April 2013
Here it is, the self-indulgent tenth choice!
And I'm glad you chose it. What a blast it was!
I'm guessing it was TV theme song week, but why Mannix?
Because the song SWINGS BABY. Even as a little kid I totally felt it.
Incredible vocals and arrangement on this. I think you initially asked me to sing, but I was way out of my league and had other stuff to do -- like learn Final Cut Pro X. You had a killer team of Gayle Graizzaro, Annette Wawerna, Keith Klingensmith, and you.
I felt that Gayle, Annette, and Keith would not only pull off the difficult vocal parts, but enjoy themselves in the process. In my mind's eye I always see them holding back laughter while singing this song.
You handled all the instrumentation on it. I'm guessing it was a drum loop? Can you talk about use of loops in general? I'm thinking specifically of the initial parts of the recording process since those of us who use Garageband can't really use the terribly quiet metronome to much effect.
I played drum samples on this, but not in a loop. I triggered them manually using my keyboard as the drum kit. That said, I often use a drum loop as scaffolding for original songs. It's very handy! I start by recording a measure or two of a basic drum pattern. I then quantize it so every drum hit is precisely on beat, Finally, I copy it and paste it a couple of dozen times in succession, and voila, I have a fake-but-precise drum track for a whole song. From there I can record a demo on top of it, or give it to my drummer as a click track for him to record live drums to, reintroducing that critically necessary human offness to the song. Once live drums are recorded, I throw away the drum loop.
This is REALLY self-indulgent, but tell me what you thought about the video when you first saw it. It was a blast to work on with no budget and a cast of four people, including my daughters.
I was beside myself with laughter and awe when I first saw it. The original title sequence was so over the top I never thought it could be matched in its hilarity, but you in fact outdid it. Highlights for me were your karate routine, your fending off a toy helicopter, and your suave and confident pointing to the camera. And what a crash course in Final Cut Pro that must have been!
It really was. I'd had the software for months but hadn't force myself to do anything neat with it. Too much work. By having just the video to do, I was able to make that happen. So win-win!
In addition to your posts as the leader, you've been quite prolific as a side man. I reviewed my list of posts and you were on 84 of them. It'd probably be twice that if you didn't have to say no occasionally because you'd committed to other people. So first question -- do you have any idea how many songs you've done as a side man?
I don't know, but I'm guessing I've accompanied on 200-300 songs. One of the many great things about Theme Music is that so many of these songs were new to me, across genres I never would have considered playing in before. This has expanded my musical palette greatly. I now appreciate more diverse music as a listener, and have absorbed a lot of new influences as a songwriter as well.
As a side man, have you preferred to be told what to do, e.g., recreate a sound as closely as possible, or been given free reign to make it your own? Or is best that there's a balance between those requests?

I haven't thought along those lines. I suppose that doesn't matter as much to me as having variety between songs. That can mean having a good balance between being faithful vs. being free, but can also mean exploring a wide variety of musical styles, or even playing in large bands versus duets.
Can you think of a few of your all-time favorite side man projects?

The song Just One Person was my peak Theme Music experience. Brandi Ediss led the large effort so brilliantly, and Hal Haygood's lead vocal was truly inspired. It came at a time when Theme Music restored so many people's long-dormant love for music making, and every last member of the large cast exhibited that love so profoundly in their tracks. I could really hear it. It was a shared experience of rebirth, and the most joyful moment of band bonding in my musical life.
Other highlights include Joe Giddings' Thunder Island for it being my first online collaboration, the Sons of Lazaro canon for the band's developing signature sound, and the variations of Almost Blue I did with The Soogs and Matt Brown for its innovative experimenting with arrangements.
I also find the piano-and-voice-only arrangements to be musically fulfilling. It's a bigger challenge for me to represent an entire band on a single piano, and I almost always grow as a musician as a result. I've done a lot of them with you, Halley O'Malley, Wendi Dunlap, and Carey Anne but I've also done these duet arrangements with several other people. I'm eager to continue with opportunities like this.
I'm glad that those artists have benefited from our complete rip off of Costello and Nieve. We've had a pretty great run as Fenster/Shaouy, but to me that's a 50-50 project, not you as sideman. The piano is every bit as important than the vocal.
The great thing about the Costello/Nieve duet collaboration is that both guys gave themselves license to greatly alter their songs. They were almost rewrites. I have many goals as a musician, and one of them is to be able to develop that kind of flexibility. The duets I do give me an opportunity to strengthen that muscle.
I know you've got a lot going on professionally and spending a good amount of time with volunteerism and activism. Do you anticipate an album #3 down the road?

This past year I've spent a good deal of time skill-building for a new job, and simultaneously volunteering on a local political campaign. By the way, I tip my hat to you and Lee Flier for walking the walk and actually running for office. Good on you both, and as a citizen, I am grateful to you for doing that.
As a result of my priorities this past year I haven't written any new songs, and have led only two covers. However, I've still accompanied on many songs because that takes much less time.
This coming year is shaping up to be a replay of last year. It's a midterm election year and I will be very active volunteering again. However, I intend to accompany frequently on other people's Theme Music songs, and will lead a couple of songs myself. Indeed, I'm getting a head start by leading two "bucket list" songs right now that are almost complete, and will be posted once they're theme-friendly. I'll also be accompanying on non-theme projects for The Windows, Jonny Daly, Bret Phillips, and Lisa Mychols. But an album from me is not in the cards this year.
Will I be making another album after all that? It will depend on whether I can get to a quieter internal state again, one where those melodic seeds I've talked about reveal themselves again. Despite the din and disruption of our current collective life, I remain optimistic.